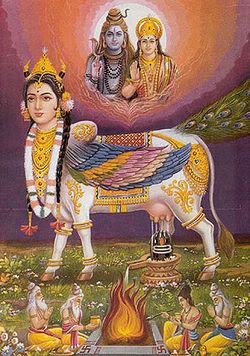 In Hindu mythology, Kamadhenu (Sanskrit: कामधेनु, pronounced [kaməðenu]) was a divine cow who was believed to be the mother of all cows. Like her daughter Nandini, she could grant any wish for the true seeker. Kamadhenu provided Vasishta with his needs for the sacrifices. Kamadhenu (kama-dhenu, 'wish-cow'), was a miraculous cow of plenty who could give her owner whatever he desired.

The cow stands for prosperity—as does Lakṣmī (see Lakṣmī), the wife of Viṣṇu (see Viṣṇu). Kāmadhenu is especially associated with brahmans (see Brahmans) and their "wealth," because she is the producer of the milk and the clarified butter, the offerings traditionally placed on the sacrificial fire.

Kamadhenu, the sacred cow which grants all wishes and desires, is an integral part of Hindu mythology. This divine cow, which lives in swargalok (heaven), emerged from the ocean of milk (ksheerasagar) at the time of samudramanthan (the great churning of the ocean by the gods (suras) and gemons (asuras). It was presented to the seven sages by the Gods, and in course of time came into the possession of Sage Vasishta.

Kamadhenu's complexion is like the white clouds. Every part of cow's body has a religious significance. Its four legs symbolize the four Vedas, and its teats the four Purusharthas. Its horns symbolize the gods, its face symbolize the sun and the moon, its shoulders Agni (the god of fire), and its legs the Himalayas

Kamadhenu is also well-known through its other five forms: Nanda, Sunanda, Surabhi, Susheela and Sumana.